Eco-friendly Modular Classrooms
Offering a complete turnkey service, TG Escapes designs, delivers and builds stunning modular classrooms for schools across the UK. These attractive permanent structures are designed around biophilic design principles, creating a comfortable and positive learning environment for students. Speak to a member of our team today about your needs in a classroom.
Bespoke modular classroom buildings
Whether you need additional classroom space to handle an increase in enrollment, a specialist room built for your SEND students, or a room catering to specific subjects like music or drama, our team of architects and designers will craft you a bespoke modular classroom.
We employ a truly collaborative approach, working with you at every stage to ensure you get the exact building you need. We also offer a free design service to our customers, with a comprehensive upfront price that will remain fixed throughout.
Opting for a quality modular classroom will bring a series of benefits to your school. Our careful manufacturing process ensures that each building we produce will offer dependable strength and performance over time, with an intended 60-year lifespan.
Modular buildings also benefit from faster turnarounds and on-site construction, ensuring your bespoke classroom is fully operational as soon as possible. Sustainability and net zero are crucial factors for new school buildings, and we can achieve net zero in operation for your classroom through several green features.
Take a look at just some of the hundreds of educational buildings we've produced through our case studies page.
Modular classrooms designed, delivered, and built across the UK
TG Escapes offers a turnkey service, designing, manufacturing, delivering, and constructing your modular classroom for a single cost-effective price. We will handle every aspect, from planning applications to groundwork to decoration, allowing us to save our customers time and stress, whilst ensuring an industry-leading standard of quality throughout.
We have a team of in-house architects and designers, who will create a bespoke design precisely tailored to your needs and budget. Across our decades of experience, we have built everything from individual modular classrooms to larger blocks and specialist facilities. Our professional and friendly team will be with you from the first design consultation until we hand over the keys, keeping you in the loop throughout.
Our free design service
We offer a free design service to customers across the UK, with our team working around your needs and your site, designing you a modular classroom that fits your needs, and providing you with an all-in-one quote for every aspect of its materials and labour. Contact us today to get started on your free design.
Our eco-friendly design principles
We prioritise creating classrooms that are great for both the environment and the students who will be using them.
All of our buildings can be manufactured to achieve net zero in operation, with green features like seeded roofs and solar panels incorporated into the design. We only use responsibly sourced materials, from the sustainable timber in our frames to our minimal impact foundations, and the recycled insulation installed in our walls. Modular classrooms will involve fewer materials, less waste, and a less disruptive installation process than traditional brick-and-mortar buildings.
TG Escapes are the only modular school building manufacturer in the UK to utilise biophilic design principles, ensuring that our classrooms offer an unparalleled learning environment for staff and students. We'll do this by prioritising natural elements within our designs, from views of outside spaces, direct sunlight, and easy access to the outdoors. Emphasising these aspects within each design will offer proven improvements to focus and happiness while reducing stress levels.
Some words from a customer…
 Over nearly 20 years we have worked on hundreds of modular educational buildings across the UK, earning a reputation for our fantastic all-in-one service, our friendly team, and the high quality of our finished buildings.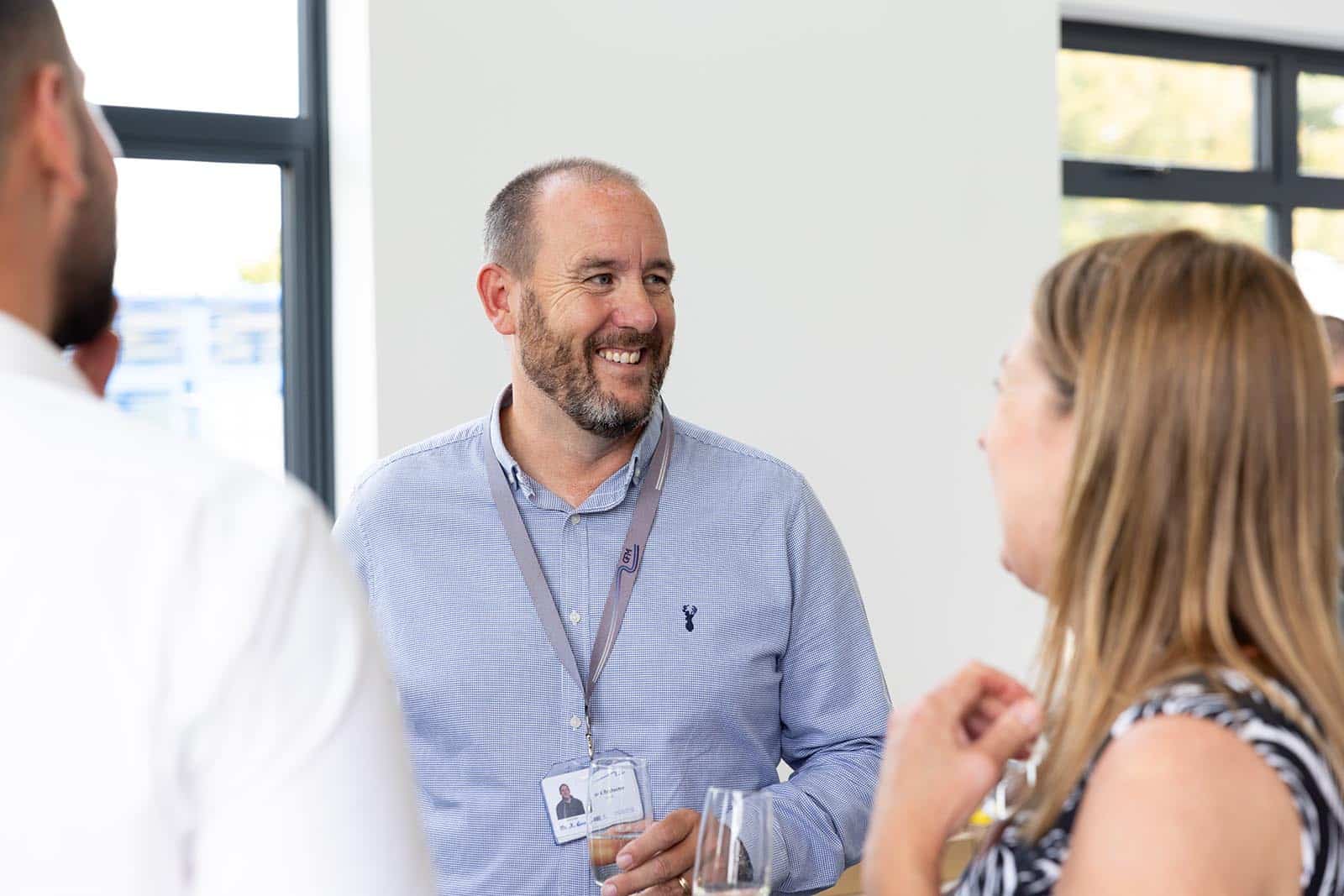 "Our experience with TG Escapes has been nothing short of exemplary. Their consistent communication, adherence to timelines, exceptional quality of work, adaptability, and professionalism have contributed to the successful realization of our project. We look forward to the potential of collaborating with TG Escapes in the future and express our gratitude for their contributions to this project."

Key Benefits
We start every project with a FREE consultation and provide these benefits: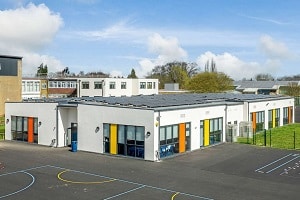 Proven Construction Experience
We have built over 250 educational buildings across the UK
Fantastic reviews from customers
Winner of a national education environment award
Proud members of ISBL and  Constructionline Gold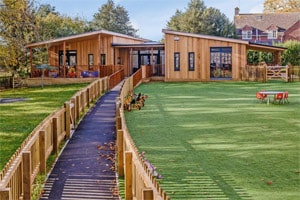 One Fixed Price
We give an all in one price so there are no surprises:
Design
Planning permission
Groundwork
Manufacture
Power and water
Plastering and finishing
Decoration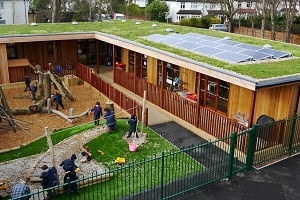 Net-Zero Biophilic Designs
All buildings can be made net-zero in use

Sustainable materials

Green features

Emphasis on outdoor access

High levels of natural light

Views of nature prioritised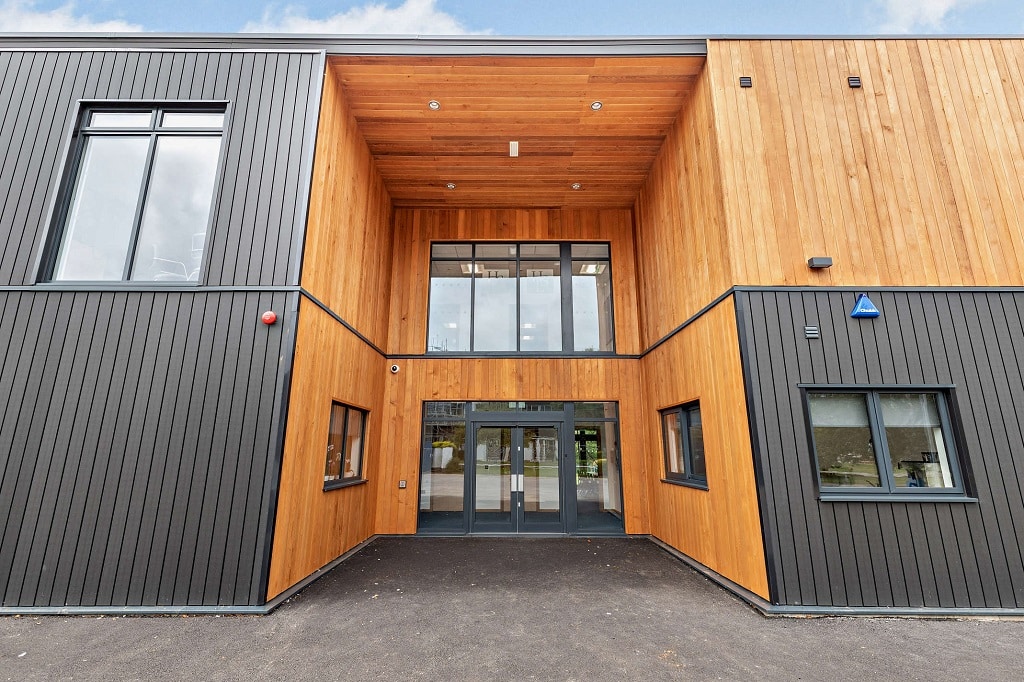 High-Quality Bespoke Classrooms
Designed around your needs
60 year intended lifespan
Beautiful timber looks
Emphasis on usability
Minimal site disruption
Tell us what you need in a modular classroom
TG Escapes are suppliers of beautiful classrooms for a range of educational clients across the UK, offering an all-in-one solution that prioritises fantastic and sustainable spaces. Speak to a member of a team about what you're looking for in a modular classroom today, and we can start work on a free design and comprehensive quote.