Education specialists
If you're looking for a modular school building, be it an eco-friendly modular classroom, staff room, school hall, library or teacher training space, our end-to-end solution removes the stress and delivers a cost-effective solution using offsite construction for minimal disruption.
Our educational specialist team has years of experience and will design a stimulating environment that can be used for learning alongside recreational and social activities. We provide bespoke, eco classrooms for Early Years, Primary, Secondary, FE, HE and SEND. 
Modular building partners for the Education sector
Modular Buildings for Schools
We specialise in working with schools to ensure they have the exact building to suit their needs. Click through to our schools section to find the most suitable modular building for your project.
Flexible modular classrooms & school buildings
Our highly adaptable approach and the variety of uses our eco-buildings for schools can be used for, means that we provide a unique building for each project we're involved in. To make your vision a reality, you'll work with our in-house architects and engineers who are experts at working with timber and modular construction methods. This expertise allows them to create eco classrooms for your space, whilst working to tight deadlines.
The flexibility of our modular build approach means your eco-friendly school buildings can grow as you do, with options like sun pipes, living sedum roofs, solar water and power systems, as well as AA-rated cooling & heating for net-zero carbon in operation, and a choice of finishes This means you'll get a modular classroom or modular school building that is not only functional but is architecturally interesting, providing stimulation for students and teachers alike.
We provide a full service for a fixed price and our modular process minimises disruption. If you're thinking about modular school buildings costs, an eco classroom from TG Escapes could save you money now as well as reducing energy costs well into the future. You can find out more about our ranges and prices here.
Find the right solution
Every project starts with a FREE site visit and survey so we can understand your detailed requirements to deliver the best quality solution for you. Filter by building type or price range.
Halls, Libraries & Chapels
"We wanted to embrace learning without walls and the design of our new school building opens up our classrooms to the outdoors so wonderfully, the opportunities are endless!"
Key Benefits
Every project starts with a FREE consultation so we can understand your detailed requirements to deliver the best quality solution. Each building can be designed so that it's net-zero in operation and we offer you: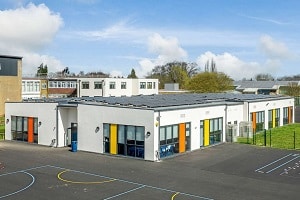 Experience
& Quality
We have built over 800 Eco Buildings in 19 years
Our Eco Buildings have won national design awards
Members of ISBL and Construction Line Gold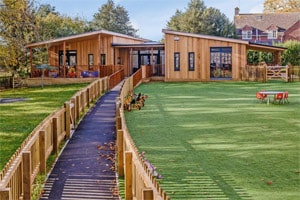 One Fixed Price
We give an all in one price so there are no surprises:
Planning permission
Design and architecture
Ground preparation
Flooring
Water and electricity
Bathrooms and washrooms
Plastering
Painting and decorating
Incorporate natural elements

Easy access to the outdoors

Maximise exposure to natural light

Healthy level of interior air quality 

Views of the natural world outside

Biodiversity features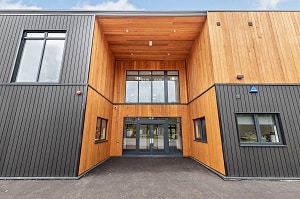 Bespoke Approach
Each building is designed by our in-house architects to your preferences with a lifespan of +50 years. Our modular system minimises disruption, quickens the build schedule, and can be tailored to seamlessly blend with existing buildings.
Secondary Multi Purpose Block
Lee Alexander, Head of Finance 
Shotton Hall Academy
You are in effect getting a permanent building for half the cost of bricks and mortar. We were intrigued by TG Escapes' different approach to learning environments and after visiting their other projects we were blown away.

Prep School Early Years Provision
Sam Patel, Director of School Development 
Bickley Park Prep School
Both children and staff love learning and working in the building due to the amount of natural light and space. Free flow access to a covered deck is a huge advantage so that outdoor learning can take place in all weathers.

Kiran Hingorani, Principal 
Swalcliffe Park Specialist School 
The building itself fits really well into its natural surroundings and, in its own unique way, looks as stunning as the main school building, a beautiful Victorian manor house. The boys love having their own space to enjoy their activities and make as much noise as they want!