Timber frame commercial modular buildings
A stunning all-in-one solution perfect for offices, sports or leisure facilities, catering, and much more, our commercial modular buildings are designed, manufactured, and installed by us across the UK. Our team of architects work with net-zero and biophilic design principles in mind, offering beautiful bespoke looks with quick on-site installation.
Our stunning bespoke modular buildings
The right building can offer a range of benefits to a business, providing a beautiful space to work, collaborate, think, and relax. Through biophilic design principles, the benefits of being within nature can be directly translated into the business environment.
TG Escapes combines cutting-edge technology with sustainable materials to create attractive timber-framed modular buildings for offices, agencies, sports clubs, hospitals, and more. Our bespoke design process allows us to create spaces tailor-made for your needs and space, that conform to all regulations and are sympathetic to the surrounding environment.
Our in-house architects will collaborate with you throughout, while all construction challenges will be dealt with swiftly and efficiently by our structural engineering team.
A key benefit of modular construction over traditional construction is that it can be extended when and if you need additional space, meaning that your building can grow with your business. To further aid this, each commercial modular building we produce is designed with at least 60 years of performance in mind.
Hassle-free modular office buildings
Another key benefit of our service for customers is that we can handle everything ourselves. When you work with TG Escapes you won't need to worry about paperwork, planning applications, or hiring installers, with everything from the first design call to the final handover accomplished by our friendly team. We'll assign you a personal project manager who'll be involved at every stage, giving you a clear point of contact and ensuring consistent communication throughout.
Our end-to-end, turnkey solution removes the stress and delivers a cost-effective solution, installed quickly and with minimal disruption. Every project starts with a free consultation so we can fully understand your requirements and deliver you an exceptional space.
Why choose modular for your commercial building project?
Modular buildings have experienced massive growth in recent years, and today can offer all the features you'd expect from a traditional building, with a series of additional benefits. Modular construction involves building each element of a building off-site, and then delivering and connecting them to create a finished building. Compared to traditional brick buildings, this process is quicker, involves less waste, ensures complete accuracy to designs, and will create far less disruption on-site.
Our commercial modular buildings are designed and built to an exacting standard of quality, and thanks to our commitment to biophilic design principles, will always keep the needs of the end user in mind. We use strong timber frames allowing for multiple-storey buildings, and design them to be net-zero in operation, meeting all current and future regulations.
A modular building manufacturer you can trust
It's important to choose a company that you can trust when looking for a commercial modular building manufacturer. We want every customer to have a fantastic experience working with our team, and be left with a modular building solution that exceeds their high expectations. We're grateful to have received stellar reviews from our customers across the UK.
"We wanted something that would be quick, but would be of very high standard, which is exactly what we got."

Key Benefits
We start every project with a FREE consultation and provide these benefits: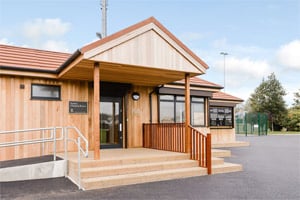 Decades of High-Quality Buildings:
Over 800 Eco Buildings constructed across nearly 20 years
Winners of the prestigious Education Estates Award 2021
Members of CIBSE, NAPIT and Construction Line Gold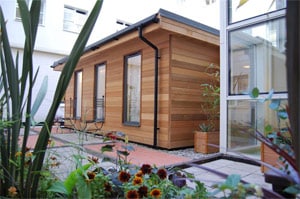 One Fixed Price that Covers:
Planning permission
Design and architecture
Ground preparation
Flooring
Water and electricity
Bathrooms and washrooms
Plastering
Painting and decorating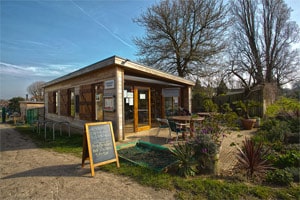 Biophilic Design:
Incorporate natural elements

Easy access to the outdoors

Fantastic levels of natural light

Ensuring healthy interior air quality

Views of the natural world outside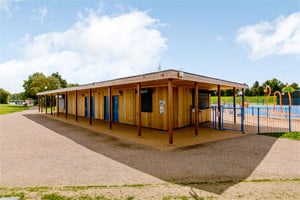 Bespoke Approach:
Each building is designed by our in-house architects to your preferences with a lifespan of 60 years. Our modular, offsite system minimises disruption, quickens the build process, and can be tailored to seamlessly blend with existing buildings.