What size should a SEND classroom be?
It's crucial that all students with special educational needs have classrooms large enough to provide a comfortable space for them, with government regulations in place to ensure suitable educational buildings are constructed across the UK.
Special needs and their corresponding space requirements differ. Government guidelines aid schools in planning these spaces. The Department for Children, Schools and Families issues Building Bulletins detailing such advice, the most recent of which is accessible here.
TG Escapes have produced a wealth of bespoke SEND facilities for specialist and mainstream schools across the UK. To help you to decide what size classroom is suitable to cater for your SEND provision, we've produced this compact and easy-to-understand guide.
The main types of SEN
Within the UK, SEN is usually thought of as four categories:
Communication and interaction:

Speech, language and communication needs (SLCN)
Autistic-spectrum disorder (ASD)

Cognition and learning:

Moderate learning difficulties (MLD)
Severe learning difficulties (SLD)
Profound and multiple learning difficulties (PMLD)
Specific learning difficulties (SpLD)

Social, emotional and mental needs (SEMH)
Sensory and/or physical:

Vision impairment (VI)
Hearing impairment (HI)
Multi-sensory impairment (MSI)
Physical disability (PD)
This spectrum of needs will require a range of specific measures and building sizes to accommodate. In terms of the dimensions required, the regulations are broken down based on the different stages of schooling and the type of school.
Early Years
For nurseries and pre-schools, a lot of space is needed to allow children to have an open and free environment. In their early years, children experience the world in a highly sensitive way and this should be a principal concern when addressing SEND spaces.
For this reason, we recommend between 2.5 m2 and 3.5 m2 of space per child for children between 2 and 3 years old respectively. In terms of building size, this is normally between 65-91 m2 for mainstream schools that cater for SEND pupils, accommodating up to 26 children. For schools specially designed to educate SEND pupils we would instead recommend a much larger space for fewer children, with an average size of between 65-75 m2 for a nursery supporting between 6-8 children.
Primary education
We understand that primary schools have a number of different needs for classrooms to fulfil and we also appreciate that different levels of SEND provision require different amounts of space.
In order for you to make an informed decision on the size of classroom your school needs, we have divided the sizes of classrooms into 3 categories depending on SEND provision: mainstream schools, schools with a dedicated unit for SEND and those which specialise in SEND provision.
Mainstream schools
For standard reception and Key Stage 1 classrooms hosting up to 30 pupils, we recommend a floorspace of 62 m2, whilst large classrooms, such as science labs, would start at around 69 m2. For Key Stage 2 pupils, smaller classrooms of 55 m2 are also acceptable.
Dedicated units
Classrooms in schools with a dedicated unit for SEND typically need to be larger in size while hosting a smaller number of pupils. A classroom in a dedicated SEND unit for between 8 and 10 pupils should be in the range of 50 m2 and 65 m2 in order to provide ample space for learning and assistance.
Special SEND schools
If your school specially caters for SEND pupils there are a variety of needs that must be accommodated. The government specifies classroom sizes using both a zoning system and guidance for specific rooms.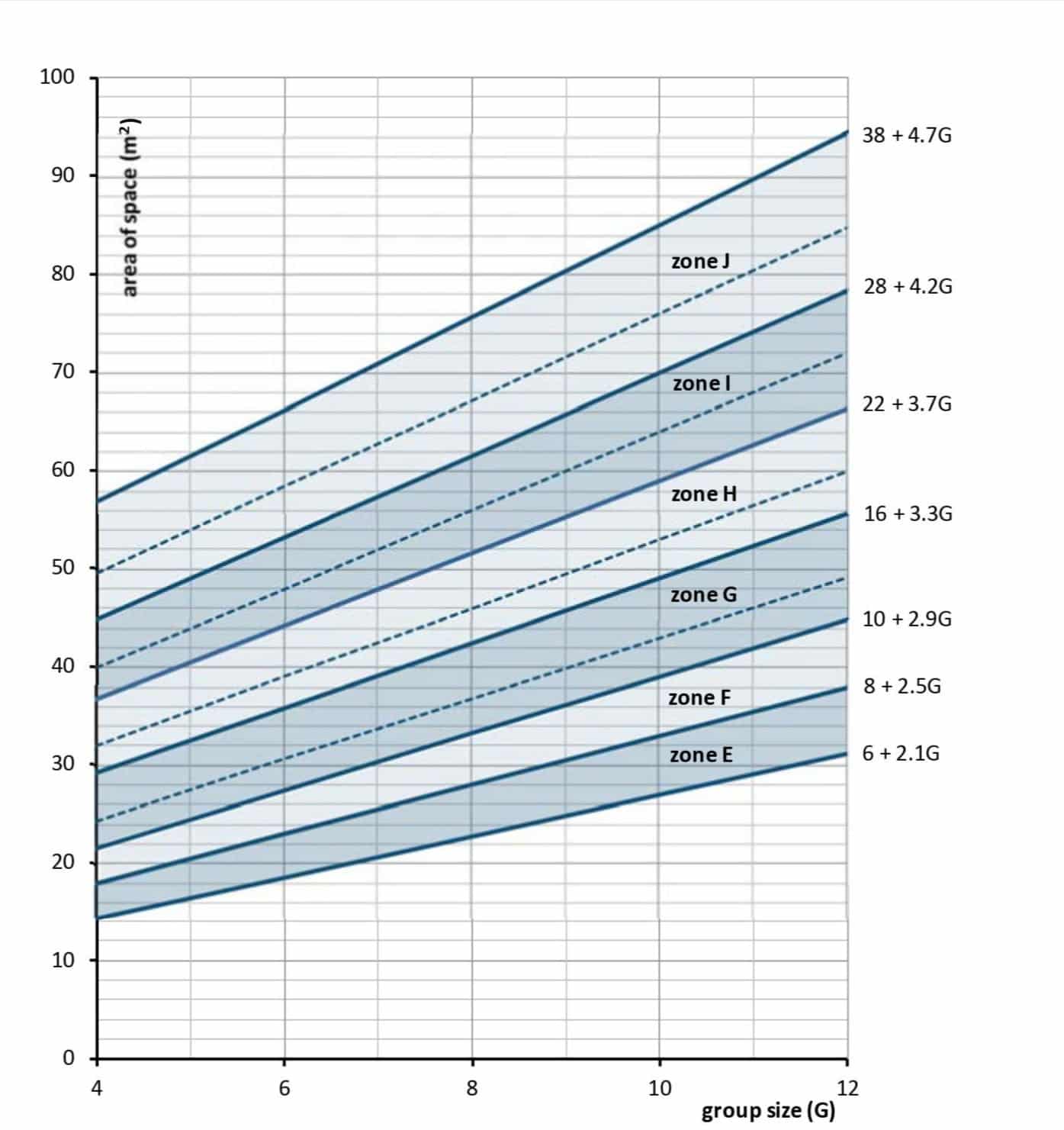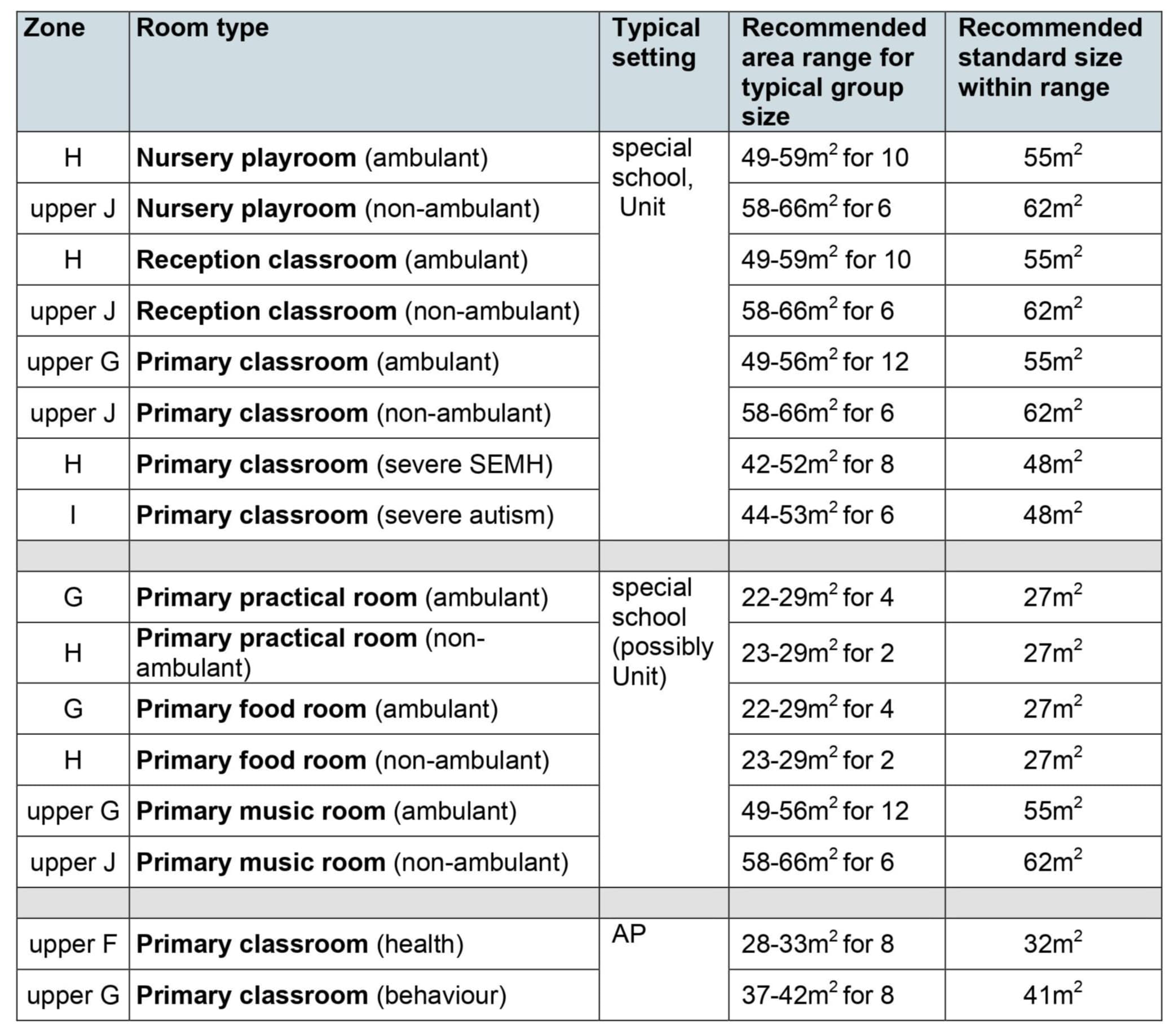 The recommended size and pupil number will vary depending on their educational needs, such as severely autistic or non-ambulant pupils, alongside the intended use of the room, such as music rooms. For alternative provision (AP) students who cannot attend a mainstream school for a range of mental, physical or behavioural needs, there are also specific guidelines.
Secondary education
As with primary education, we've divided our recommended sizes into categories relating to the type of school and use of the room. We have also separately included classrooms for resourced provision which cater for a smaller group of children with specific or diverse SEND needs. These classrooms are particularly helpful for SEND provision within mainstream schools, but can also serve as useful spaces within schools with a dedicated SEND unit, or for specialist SEND schools.
Mainstream schools
For a mainstream secondary school, a standard classroom for up to 30 pupils should be around 55m2, while other rooms will have higher standard sizes, such as ICT-rich classrooms with a 62 m2 size for 30 pupils and construction workshops requiring 97 m2 for 16 pupils.
Dedicated units
Schools with a dedicated unit for SEND typically need larger classrooms for a smaller number of pupils. For a small to medium-sized classroom in a dedicated SEND unit, hosting between 8 and 10 pupils, we recommend a range of between 50 m2 and 65 m2 to provide ample space for learning and assistance.
Special SEND schools
Special SEND schools will find that they need a variety of different-sized classrooms catering for a variety of different and specific needs. To help you identify what sized classroom your school will need for particular SEND needs, we have provided a Government recommendation table for each specific need: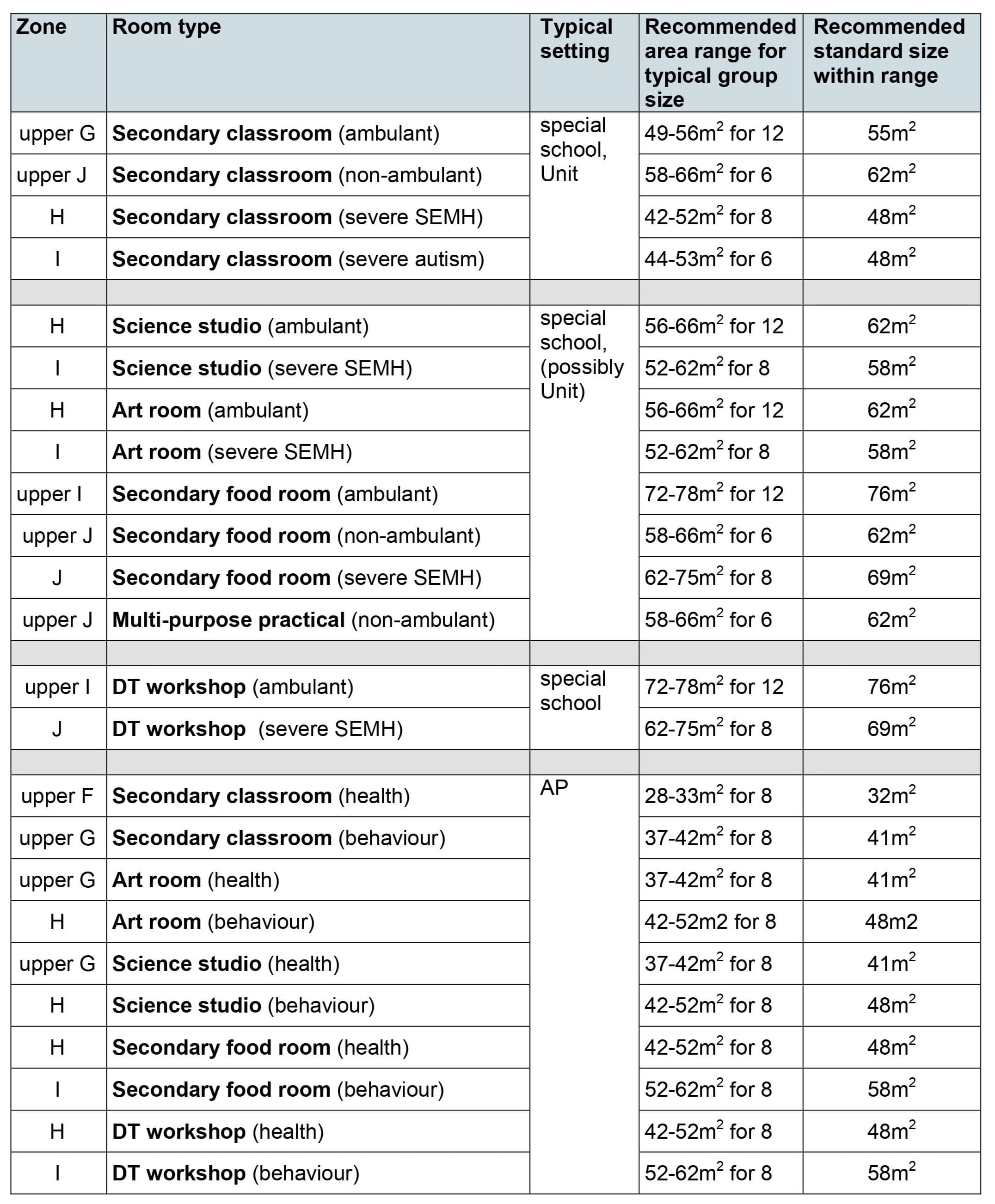 Resourced provision classrooms
Typically for fewer children than within other classrooms, SEND-resourced provision classrooms are ideal spaces to teach SEND pupils with particular needs within any school. For a classroom catering for between 6 and 12 pupils, we recommend a classroom size range of 50 m2 to 65 m2 whereas smaller group classrooms are often between 12 m2 and 20 m2.
Our experience manufacturing SEND classrooms
TG Escapes have a wealth of design and build experience addressing SEND provisions. Our award-winning buildings are particularly suitable as they stand alone, with access and the interior space designed around the specific needs of the school. See some great examples in our case studies or product range pages.
A Structural Technician coordinating projects with Architects. Having one foot in the academic world and the other in a building site, an interest in low carbon buildings such as Passivhaus led to timber construction methods. Single story eco-schools and five-storey apartments, made an appearance while his academic research includes sustainable retrofit, structurally insulated panels and cross-laminated timber construction methods. Projects include a -six-storey steel timber hybrid structure in London, A Glulam Framed Ecology Centre for the Barking Riverside, and Chris undertook feasibly on the new Google headquarters in London .
The inaugural Modern Methods of Construction Awards in partnership with the MPBA recognises excellence in modular construction. TG Escapes have been recognised in two categories winning both the 'Category 2 Panelised System' Project of the Year for their 10-classroom...
read more