Planting Trees For Schools
Seeding sustainability amongst students
TG Escapes run a tree planting scheme for our school customers partnering with EcoMatcher.

EcoMatcher works closely with tree planting organisations who have been selected and vetted with great care, located in five countries interspersed around the equator. Each country in which EcoMatcher operates is bearing the geographic and socio-economic trauma inflicted upon local communities by intensive deforestation.
The devastating impact of the destruction of rain forests upon wildlife, eco-systems and weather patterns has catastrophic implications both globally and locally. The worldwide environmental effects are well chronicled but the local cost is perhaps less well known. The communities left behind, once the loggers move out, are faced with having to grow crops in land depleted by soil erosion, with a degraded water table and frequently difficult localised weather conditions. In addition, they often face increased competition for land and depleted resources from indigenous tribal groups forced out of the forests in which they have thrived for millennia.
We will be adopting and gifting trees in Uganda, where the deforestation has occurred both recently and rampantly.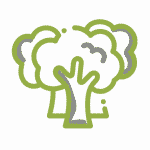 The local partner is TAU (Tree Adoption Uganda) which is youth led and aimed at tackling both the issues of climate change and youth unemployment. Established by 27 year old social entrepreneur and founder Charles Batte, TAU works to alleviate the environmental impact of deforestation while simultaneously alleviating poverty in local communities and promoting socio-economic growth. 2500 young people have already been trained in environmental conservation and are now skilled in all aspects of tree planting such as grafting, propagating and pruning whilst also managing interactions with humans and nature. And they are all ready to plant and nurture their own piece of forest.
Which is where we come in. For every school that receives a free proposal for a new classroom, we will fund the planting of 10 trees which will then be gifted to the school. 
For each finished building, we will pay for TAU to plant a mini 'forest' of between 200 and 1000 trees (depending upon the size of the school) which will again be gifted. Our first season of planting will total 8000 trees.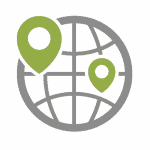 Each tree that is planted under the EcoMatcher scheme is recorded by an app which logs the location and date of planting and includes a picture of both the tree and the farmer taking care of it. Once your school has become the custodian of some trees, the students will be able to virtually travel to them using Treetracker, an app and  web application utilising amazing satellite maps, allowing you to see the trees and even 'chat' to them as you can see here.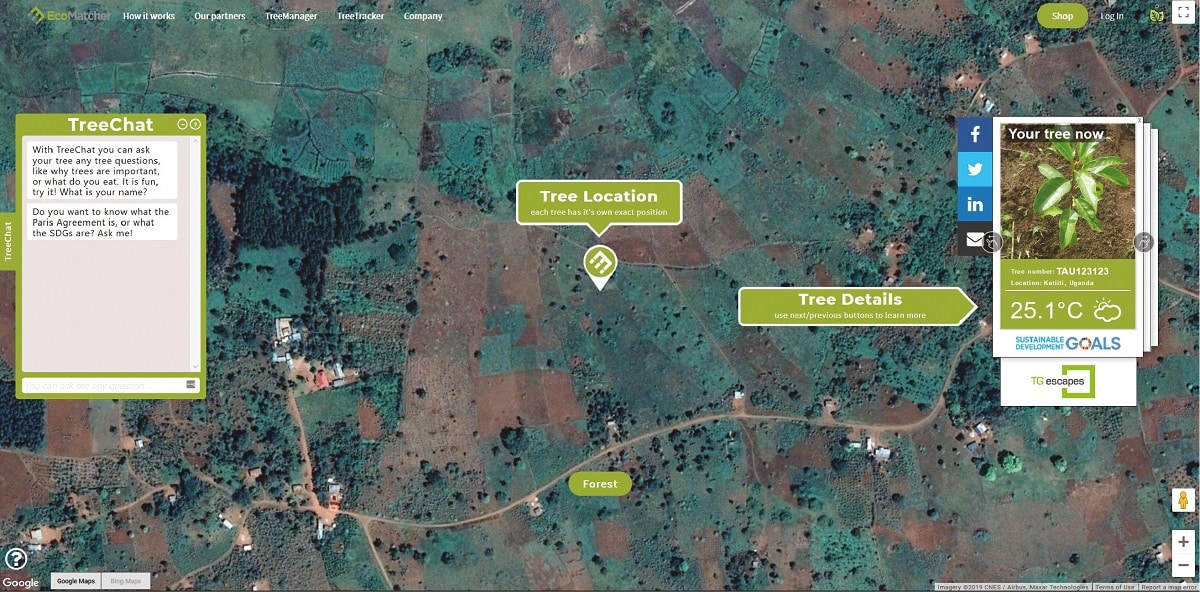 Our tree planting project has three aims: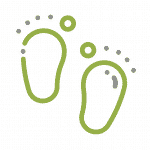 To engage students in the challenges facing the planet and increase their awareness of the need for sustainable living
Help support schools in their Rights Respecting Schools agenda by supporting farmers and their families in Uganda
Offset a proportion of the schools' carbon emissions – each tree will absorb 250Kg of CO2 over its lifetime.


 

We all need some hope, and we hope that our exciting project will provide just that for your students and all those living in the communities set to benefit from the trees.