TG Escapes proud to win two Modern Methods of Construction Awards 2023
The inaugural Modern Methods of Construction Awards in partnership with the MPBA recognises excellence in modular construction. TG Escapes have been recognised in two categories winning both the 'Category 2 Panelised System' Project of the Year for their 10-classroom block at Ratcliffe College and the Public Sector Innovation of the Year for the Biophilic Primary School with Early Years.
Ratcliffe College

Ratcliffe is an independent school located in Leicestershire. In 2021, requiring more space for their growing student numbers, they sought a company to build a new teaching block that would accommodate their whole English department.
Speed and design were two key factors emphasised strongly by the college, and the factors that largely contributed to TG Escapes being awarded the contract. We delivered a stylish, sustainable, economic solution with a bespoke design, timber frame and engineered to be net zero in operation.
Built using a panelised modular system designed by in-house architects and engineers, the 925m2, ten classroom, two-storey block was built in only 28 weeks, inclusive of demolition and enabling works to the original site. Consisting of 314 wall panels and 150 custom-made Posi joist roof and floor panels made from 871 joists, all constructed off site and delivered to the build teams when required.This modular approach saved time, compound space and reduced costs versus more traditional construction solutions.The building was sited in a prominent position in full view of parent drop offs, therefore designed as an aesthetically pleasing addition to the school. Views of nature, easy access to the outdoors, natural light and materials, were all considered and have been proven to enhance educational outcomes and the well being of students. The building design included a full height atrium with roof lights, a large PV array and a living roof along with a mix of render, cedar and neo-life cladding to the external façade.
Head of English, Luanda Stannard says.
"Teaching staff are really enjoying the space in the rooms. We've got a lot more space to configure the desks as we want and it's easier to walk around the room. We like the brightness. To teach in, they are extremely fit for purpose and having smart new rooms is quite exciting for the students as well.
It has all been received very well by parents and staff from other departments with comments like 'Wow! This is amazing.' Because it is the best building in the school. The most impressive building. The wall art particularly and the atrium area are fabulous. Very positive responses.
I think that there is a difference in attitude working in an environment that is good for learning. I can certainly see that because they have got the space and the light. It is a little bit early to tell but, I would say that certainly in behavioural terms in the classes themselves there has been a positive influence.
Overall, it is a massively positive building and it is a positive experience to work and learn in it."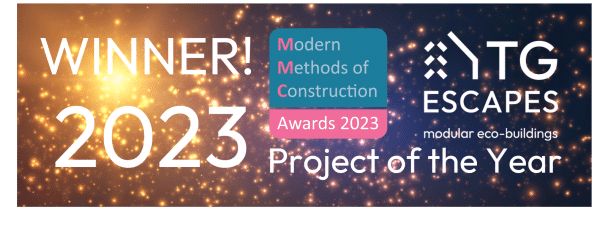 Biophilic Primary School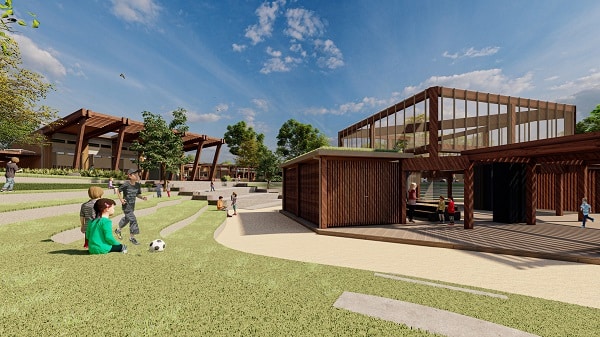 At TG Escapes we believe that connecting young people to nature can help not just educational outcomes but also health and well-being. We wanted to design a completely biophilic environment providing outdoor learning for the majority of the curriculum, and do this in a way which was affordable. This single-entry nursery and primary school for 300 children is constructed almost entirely from timber, with a low embodied carbon value to be highly sustainable and lifetime net-zero.
The modular timber frame solution provides bright, airy buildings with high ceilings, exposed timber and abundant glazing for natural ventilation and light. It is clad in natural timber featuring large solar PV arrays for sustainable net-zero operation. The approach makes biodiversity a priority with bird and bat boxes, insect-supporting structures, natural living roofs, rainwater capture and ongoing tree planting.
The design utilises separate pavilions connected by covered walkways and canopies, arranged to envelop a central landscaped, terraced area with an outdoor class at its centre.
Walkways replace much redundant internal circulation with time outdoors, supporting various features such as seating, outdoor play and learning facilities, and sedum roofs.
Modular construction means it can be built over a number of years, starting with early-years, adding accommodation for each new intake.
The total cost of the build, (excluding landscaping and services which will be site-specific) is £4m. The whole-life carbon calculation exceeds the RIBA 2030 target for schools.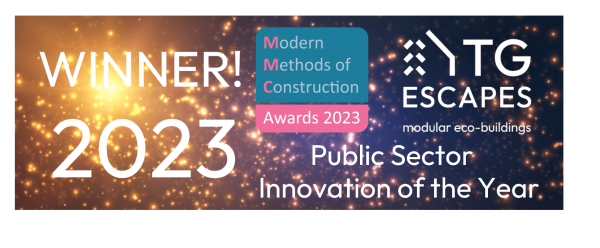 The TG Escapes team appreciate the recognition.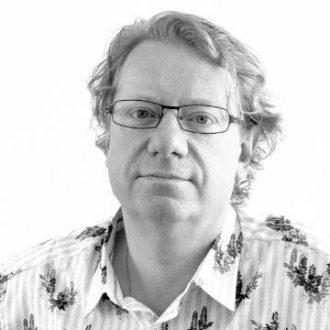 Consultant at TG Escapes - Mark has spent time growing up with the army, studying computing before the internet existed, and founding The London Classic Theatre Company, self sustaining for over 25 years. He trained in marketing with Unilever before moving into advertising as a strategist with Leo Burnett, Creative Director at Starcom and founder of award winning creative agency Weapon7. He has a passion for eco buildings and helps run the social enterprise Street Wisdom, providing free creative walkshops around the world.
It's crucial that all students with special educational needs have classrooms large enough to provide a comfortable space for them, with government regulations in place to ensure suitable educational buildings are constructed across the UK. Special needs and their...
read more