Eco-Friendly Modular Office Buildings
Eco-Friendly Modular Office Buildings
TG Escapes works with clients across the UK on beautiful modular office buildings, creating bright, dynamic, and inspirational spaces for teams. We offer a complete turnkey solution, designing, manufacturing, and constructing a building carefully tailored to your needs and location. Our team offers free on-site surveys to clients, allowing us to develop a bespoke building design and a comprehensive upfront price for you.
Building You the Ideal Office Solution
The ideal working environment is both attractive and inspirational. Light, comfort, space and dynamism should all play a factor in delivering an enjoyable modern environment to work in.
Here at TG Escapes, we aim to fulfil these criteria through our eco-friendly modular office buildings, delivering both style and function. Manufactured off-site under factory conditions, modular buildings are delivered in pieces that can be joined on-site, creating a strong, permanent building.
Due to their flexible modular design, our eco-friendly offices boast a far quicker development time than traditional construction methods. This means that when we install one of our modular office buildings, site disruption and business impact are kept to a minimum.
Our modular office buildings can also be reconfigured or expanded as your business grows, offering you plenty of flexibility to scale. This could mean adding additional office space for new personnel, or an extra room for other commercial activities. Our expertise in delivering commercial modular buildings that satisfy a broad range of needs means we are uniquely positioned to deliver adaptable spaces for any business need.
Modern and Bespoke
All the modular offices TG Escapes produces are constructed to exacting standards and fully comply with all building regulations. We work together with our expert in-house architects to produce stunning modern designs aimed at bringing light and elegance to the modular office environment.
We aim for nothing less than to make the most employee-friendly modular offices in the UK. This means better employee satisfaction and mental health, leading in turn to improved productivity and output for your business.
Throughout every stage of design and construction, our team will collaborate with you, ensuring that the building is tailored to your needs, your personality as a company, and your outdoor space, large or small. We can accommodate your needs for open-plan spaces, breakout rooms, and more. We pride ourselves on being able to provide bespoke, individual modular office designs which follow your ideals and plans for your office space, including location, adaptability and additional extras.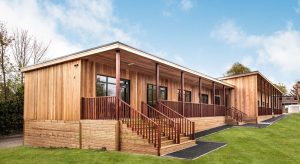 Eco-Friendly
The environment is something that we are highly passionate about, and this passion extends to the eco-friendly modular buildings we produce. All the materials used in our buildings are responsibly sourced, such as the timber in their frames which is cultivated in sustainable forests.
We ensure all our modular office buildings are well insulated with glass wool and offer a multitude of eco options to choose from when selecting additions to your modular office, such as sun pipes or Sedum roofs. These innovations can help to make a modular office more energy efficient than a traditional building.
An eco-office solution will help your business work in a way that is more in tune with nature, offering a more positive environment for all. As well as boosting staff and customer well-being, it's a great way to demonstrate that your business is committed to a sustainable and green future.
Biophilic Modular Office Buildings
Combining our commitments to both positive workspaces and environmental protection, we place biophilic design principles at the centre of all of our buildings. Seeking to bring the benefits of the natural environment to an interior space, our designers work to maximise access to natural light within each commercial building and offer views of nature within workspaces.
Incorporating natural elements like plants into modern buildings is also crucial, as is prioritising high levels of air quality. Whenever possible, we aim to offer easy access to the outdoors in our modular office buildings. Biophilic design can help to increase workplace happiness and productivity, whilst decreasing employee stress levels.
A Professional and Cost-Effective Service
Every project we commit to starts with a FREE on-site survey to help understand your needs and the foundations needed for the construction, delivering a high-quality architect-designed solution for you and your outdoor modular office. TG Escapes also makes sure that all costs are included in the starting price, including:
Planning permission

Design and architecture 

Ground preparation

Foundations

Construction
Flooring

Water and electricity 

Any bathrooms and washrooms

Plastering 

Painting and decorating
Stunning Modular Office Buildings Designed and Constructed
Whether you're looking for a small modern office or a larger commercial building, our team is adept at delivering a single solution tailored to your needs. We have completed hundreds of larger building projects across the UK, covering every aspect of design and construction with a single point of contact for clients.
We make beautiful, environmentally friendly buildings carefully designed to offer a positive work environment. And everything we do is included in an upfront and cost-effective price.
Speak to a member of our team today about organising a free on-site survey.