Are Modular Buildings the Key to a Carbon-Neutral Future?
Did you know, global emissions of carbon dioxide have increased consistently since the 1800s?
If we continue at the current rate we face a 3.7 degree increase in world temperatures by the end of the century, a global catastrophe with wide-reaching effects.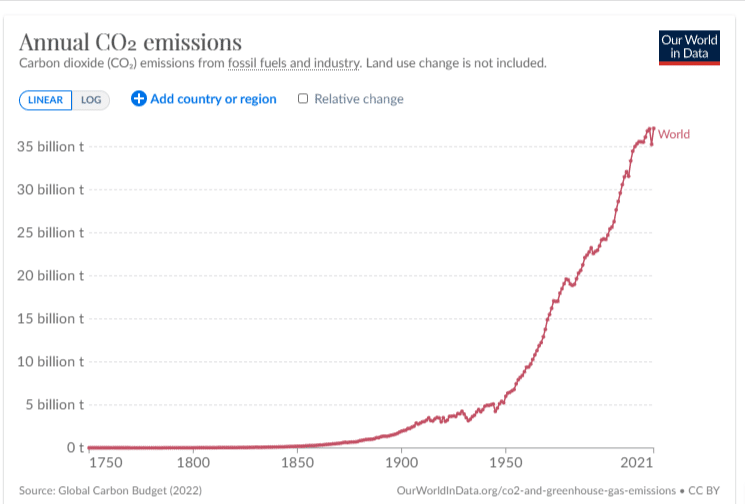 Screenshot from Our World in Data - CO2 Emissions.
Thanks to worldwide collaboration on The Paris Agreement, regulations are now on the horizon, meaning that carbon neutrality is no longer an option for the UK construction industry. When it comes to achieving true carbon neutrality, Modern Methods of Construction such as modular buildings are leading the way. 
TG Escapes creates high-performance modular buildings for a range of sectors and industries, enabling them to achieve Net Zero in operation or lifetime through advanced off-site fabrication, sustainably sourced materials, and energy-saving additions.
Why are governments and industry concerned?
The large-scale construction projects of the last 150 years have completely changed the face of our planet, while also helping to set in motion potentially catastrophic issues, from depleted natural resources to air pollution and waste. Construction creates around a third of the world's emissions, and despite rising awareness of these issues, in many cases, things are not improving, with China recently using as much cement in two years as the USA did across the 20th century.
In order to combat the threats of climate change, titanic shifts are needed, on both a government and industry level.
What you need to know about the new rules governing buildings
The UK government's solution to the climate crisis is its Net Zero Strategy, a planned 100% reduction in carbon emissions by 2050, with every new building required to be "Net Zero ready" by 2025. Alongside this, there are a range of other campaigns that affect new builds, with some local areas specifying a certain BREEAM score for new buildings, and schemes like Lets Go Zero aiming for all schools to be fully Net Zero by 2030.
While sustainability has long been a key aim for clients across the UK, from commercial, to education, to domestic, it will soon be a legal obligation.
Net Zero: and how it's defined
When thinking about Net Zero, we find it easier to define it in two ways: Net Zero in operation and Net Zero in lifetime.
Net Zero in operation

For a building to achieve Net Zero in operation, its energy use during normal daily functions must result in zero or negative carbon emissions annually. The best method to achieve this is a "fabric first" approach, engineering a tightly sealed, highly efficient building envelope. This is paired with low-carbon systems like mechanical heat recovery, air or ground source heat pumps, and solar power. While in some cases offsetting will be used to balance emissions, when utilising modern methods of construction and sustainable timber framing, a truly Net Zero building can be achieved. We specify each of our projects to achieve Net Zero in operation as standard.
Net Zero in lifetime

Achieving Net Zero in lifetime means a building's entire lifespan is carbon neutral. This requires Net Zero operational performance, while also accounting for all embodied carbon used in initial construction, future replacement of materials, and eventual demolition. The full lifetime carbon footprint must then be offset through schemes like tree planting. When building around a modular, timber-framed design, carbon emissions are minimised, in some cases even allowing buildings to generate excess renewable energy. Timber also locks in carbon when harvested, and can be reused or repurposed for additional energy creation at the end of a building's life. When combined with other energy-saving measures, little to no offsetting is needed to produce a completely carbon-neutral building.
Modular buildings and offsite construction help achieve Net Zero
Offsite fabrication brings major carbon savings compared to traditional onsite processes. By manufacturing modules or panels in a controlled factory setting, energy use and waste generation are both greatly reduced. From there, consolidated deliveries and swift onsite assembly further slash the carbon impact compared to a traditional brick-and-mortar build. 
Studies show offsite projects can achieve 30% lower emissions from energy use and 60% less from transport. With robust data tracking and clear sustainability commitments, offsite construction presents a major opportunity to shrink the carbon footprint of future developments across the UK, aligning with the latest Net Zero goals.
A fabric-first approach is crucial for meeting Net Zero ambitions now and in the future. By maximising the performance of a building's envelope through airtight seals, high-performance insulation, and optimised solar gain, the overall energy demand can be greatly decreased, reducing the need for as much renewable technology and costly mechanical systems. 
Aligning a fabric-first design with the precision and waste reductions of a modular build will have a dramatic impact on emissions, a crucial aspect of any Net Zero building.
The TG Escapes' commitment to carbon-neutral
Our team produces a huge selection of carbon-neutral buildings across the UK, predominantly working in the education and commercial sectors. We achieve this through our fully turnkey approach, designing fabric-first buildings in-house, manufacturing them off-site from timber and other sustainable materials, and outfitting them with energy-saving additions. From single classrooms to cafes, school blocks, and much more, our team can meet all Net Zero goals, alongside complying with other eco schemes like BREEAM.
We utilise a panelised modular approach, allowing us to create wholly bespoke permanent buildings that are attractive, healthy, and optimised for long-term use. Producing within a factory setting saves energy and time, while greatly minimising waste. It also ensures a quicker and less disruptive installation process on site. As we operate a turnkey process, we are able to track carbon emissions across the whole of the construction process in order to accurately calculate any offsetting needed to reach Net Zero in lifetime.
"If you construct within a factory setting, producing all your panels and joists there, then everything can be easily transported in one go before being assembled. So you've got less transportation to site, and you've got less time on site, all of which means you're reducing emissions." - Karl Stokes, MD - TG Escapes
Another important step to reaching carbon neutrality in our buildings is through the materials we use to construct each of them. Of these, timber is the most important, as we use it for both the frames of each building and the modular panels. All our timber comes from responsibly managed forests, with multiple trees planted for each one harvested. As trees absorb and store CO2 from the air, using it within our buildings will further help to balance carbon emissions.
We also use a range of other sustainable materials to help reduce emissions:
All of the glass wool insulation we use is 80% recycled, one of the most sustainable options on the market.

Whenever possible we use a screw pile or pad and pier technique for our foundations, which have considerably lower carbon emissions than concrete, and limit disruption to tree roots.

We use Neolife SMART cladding, an eco material with excellent technical performance.

We use aluminium in all our doors and windows, an energy-efficient and highly recyclable material.
The latest energy-saving technology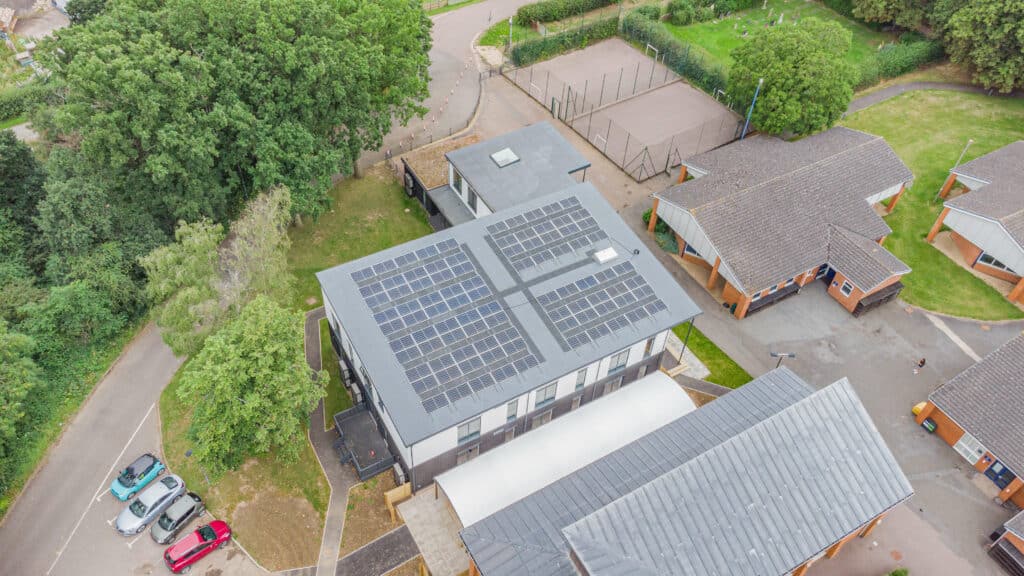 Alongside our fabric-first design approach and sustainable materials, there is a selection of additional elements we can use to boost energy efficiency, helping us to achieve net zero in operation or lifetime across our buildings:
Heat Recovery Technology: We use MVHR (Mechanical Ventilation Heat Recovery) units for ventilation, which reduces heat loss from a building while maintaining excellent air quality.
Solar Panels: Utilising solar panels across our buildings allows them to greatly decrease their mains energy consumption, and in some cases actually generate more energy than they need.
Sun Pipes: Bringing natural light into our spaces reduces reliance on powered lights, offering fantastic energy savings over time.
Light Sensors: When electric lights must be used, sensors ensure that no power is wasted.
Percussion Taps: Similarly, opting for percussion taps greatly reduces wasted water.
Sedum Roofs: Green roofs will absorb more carbon than they release while improving biodiversity and replacing any grass that has been removed to make way for a building.
"If you design properly around timber there's very little offsetting to be done in a lot of cases, as many of these buildings generate more energy than they need." - Mark Brown, Consultant - TG Escapes
Thanks to our careful turnkey approach, we can limit our reliance on carbon offsetting, which is used as a crucial aspect of many Net Zero commitments, and has come under fire in recent years.
Concerns around carbon offsetting
In theory, carbon offsetting provides a fantastic way to minimise the damage created by industries that have limited avenues to reduce their emissions. Through a series of schemes, they can buy "Credits" in worldwide investments intended to reduce future carbon emissions.
However, recent analyses alleged that many rainforest offsets falsely overstated the levels of emissions being avoided, with critics warning that offsetting enabled continued fossil fuel reliance rather than pushing for vital decarbonisation. 
As a construction company, we aim to reduce the carbon emissions of our buildings and manufacturing process as a primary goal, with responsible offsetting used to achieve Net Zero in lifetime on a case-by-case basis.
Helping education achieve Net Zero with modular schools and classrooms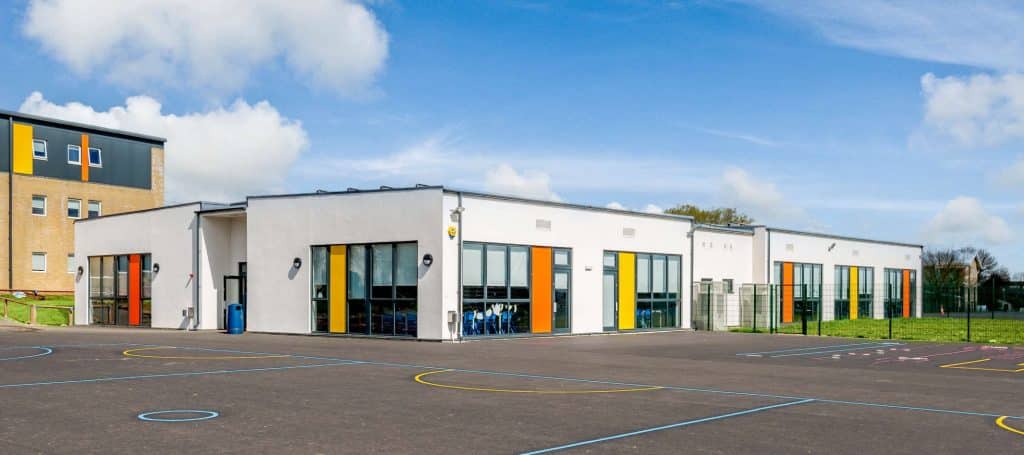 We produced a Net-Zero multi-classroom block for Samuel Ryder Academy in St Albans. This project exemplifies how we achieve carbon neutrality through additions like air source heat pumps, hybrid active ventilation systems, and daylight-controlled LED lighting. The structure's 238 solar panels provide renewable power onsite, saving 25 tonnes of C02 from being released into the atmosphere within its first year. The students also benefit from ample natural light and views of the outdoors within a productive, comfortable learning space. Achieving an A+ rating, this Net Zero building acts as a showcase for what our team is able to achieve. Explore our other case studies.
Our carbon reduction commitments

As a business, we are also pushing towards Net Zero. TG Escapes have long prized our environmental commitments, from our Net Zero building projects to our 97% exception recycling benchmark. As we've laid out in our carbon reduction plan, we completed a comprehensive audit in 2022 and set aggressive reduction targets, pledging a 10% yearly cut in C02. This is a multi-pronged strategy involving everything from electric vehicle investments to business waste, travel, the upgrading of our facilities, and much more. Our goal is to be carbon neutral by 2024 and fully Net Zero by 2030.
Are you ready for carbon-neutral construction?
As the effects of the climate crisis intensify, and the window of opportunity to meaningfully limit its disastrous global implications shrinks, achieving true carbon neutrality in our built environment is an urgent moral and legal obligation. We work with consultants and contractors throughout the UK and the demand for Net Zero solutions is seeing continual growth. We rise to meet this challenge through a turnkey approach, prioritising offsite construction, sustainable materials, and energy-efficient design. All of our modular buildings can be specified to meet Net Zero in operation or lifetime.
We believe that modern methods of construction such as modular offer the best path towards meeting legal obligations while still offering durable, attractive buildings. Explore some of our amazing projects across the UK, and follow us to keep up to date with our latest articles.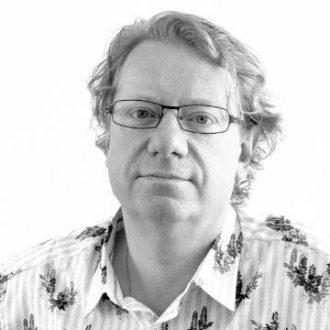 Consultant at TG Escapes - Mark has spent time growing up with the army, studying computing before the internet existed, and founding The London Classic Theatre Company, self sustaining for over 25 years. He trained in marketing with Unilever before moving into advertising as a strategist with Leo Burnett, Creative Director at Starcom and founder of award winning creative agency Weapon7. He has a passion for eco buildings and helps run the social enterprise Street Wisdom, providing free creative walkshops around the world.
Timber Provides One of Our Most Promising Hopes for Reliably Hitting Net Zero There's no getting around it, the construction industry has played and continues to play a massive role in climate change. Last November, the UN environmental program found that the...
read more