Modular Buildings for Schools
Designing, building, and installing fantastic modular buildings across the UK, TG Escapes offers a truly all-in-one service for clients across the education sector. The hundreds of modular classrooms, school blocks and more we've built across the UK are produced around biophilic design principles and can achieve net zero in operation. 
Eco-friendly modular solutions for all types of schools
Bespoke modular school buildings
Every building we create starts with a free design consultation, with our in-house team of architects and designers working with you on a wholly bespoke plan for your building, taking account of needs, location, and budget. From there we'll give you a fixed all-in-one price for your building, covering everything from groundwork to installation, wiring, and plastering. This comprehensive process saves you time and money, while reducing any hassle through a single point of contact.
Our buildings balance looks and function, designed around an intended 60 years of performance. Whether you need a single standard classroom, a specialist room for SEND students, or a multi-room block, our team will be able to build you a fantastic educational space. We combine traditional techniques with modern technology, and thanks to our entirely in-house work can ensure a consistently exceptional standard of quality throughout.
To find out more about the hundreds of educational buildings we've produced, or to discuss your needs in a new school building, speak to a member of our friendly team today.
Why choose a turnkey modular solution?
Modular buildings are designed and built off-site, delivered in pieces and then assembled to make a finished building. Modern modular buildings offer everything that could be expected from a traditional brick-and-mortar building in terms of strength, uses, and amenities, with several key benefits.
A modular school building will have a quicker turnaround than a traditional one, especially when it comes to installation. They also produce far less material waste during manufacture, alongside a reduced environmental impact from their faster installation process. Your new school building can also be altered easily thanks to its modular structure, making extensions and adjustments a straightforward and cost-effective process.
We have a team of in-house architects and designers, who will create a bespoke design precisely tailored to your needs and budget. Across our decades of experience, we have built everything from individual modular classrooms to larger blocks and specialist facilities. Our professional and friendly team will be with you from the first design consultation until we hand over the keys, keeping you in the loop throughout.
Our beautifully green modular buildings for schools
We place biophilic design principles and sustainability at the heart of every modular building we produce. This starts with our sustainably sourced timber frames and panelling, alongside the recycled glass wool insulation and specialist low-impact foundations we use. Furthermore, each building we make can be specified to hit net zero in operation across its lifespan, through additions like solar panels and green roofs. For a great example of a net zero modular school building, read our case study on Samuel Ryder Academy.
Biophilic design principles prioritise mental and physical health within a building through a connection to nature. This is achieved by giving views of nature within each classroom, using natural light whenever possible, and ensuring adequate ventilation. Biophilic school buildings will reduce stress, raise engagement, and even lower the number of sick days used by students.
Decades of award-winning experience…
In nearly 20 years of work we've produced hundreds of modular buildings for schools across the UK, many of which can be explored through our case studies page. Alongside our recent win at the Education Estates Awards, we're happy to have received fantastic feedback from our customers, with an average score of 4.9 out of 5.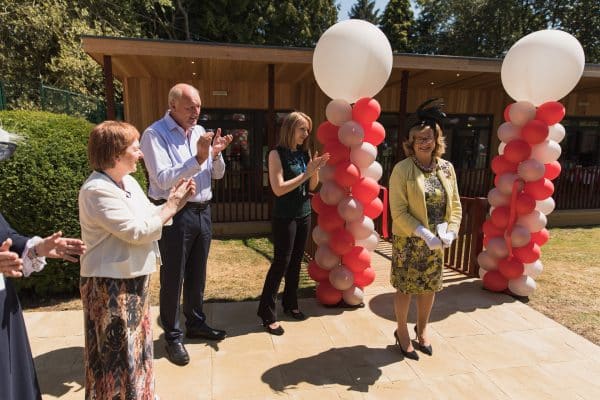 "We wanted to embrace learning without walls and the design of our new school building opens up our classrooms to the outdoors so wonderfully, the opportunities are endless!"
Helen Jeffries
Head of School, The Shires at Oakham
Choosing TG Escapes
We start every project with a FREE consultation and provide these benefits: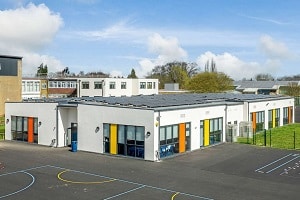 Bespoke Modular Building Constructors
Free in-house design process
Hundreds of educational buildings produced
Winners of 2021 Education Estates Award
Member of CIBSE, BESA, Napit, and Constructionline Gold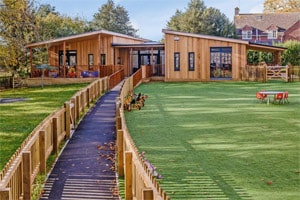 Set All-In-One Price Covering
Building
Planning permission
Foundations
Installation
Plumbing
Power
Plastering
Decoration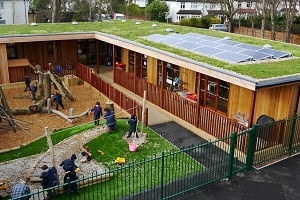 Net-Zero Biophilic Designs
Positive and beneficial learning environments

Views of nature

Access to outdoors

Healthy air quality

Natural light in all rooms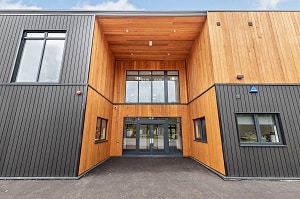 Green Modular Buildings
Sustainable wooden frames
High-quality recycled glass wool insulation
Net zero in operation
Careful installation
Low material waste during production
Tell us what You need in a modular school building
Thanks to our bespoke in-house design process, we can produce a massive range of school buildings, offering clients a hassle-free process from beginning to end. This starts with our free design process, after which we'll be able to present you with a complete plan for your building and a comprehensive fixed price.